God never gives strength for tomorrow, or for the next hour, but only for the strain of the minute.  ~Oswald Chambers
Do you ever feel sad, lonely, and just plain 'blah'?
Although I am a lot better today,  I have struggled with heavy hearted feelings at different times of my life.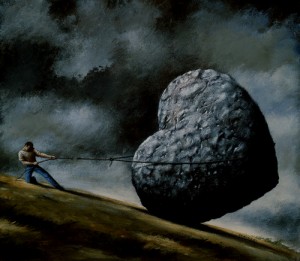 Through talking with others, I have learned that many others also have days challenged by low energy and little joy.
Here are some tips that I have learned to help me overcome those days. May they be an encouragement to you.
1. Remind yourself that God is stronger than your feelings and that He wants to help you
Our feelings are always valid. What you feel is real.  I'm not suggesting that you discount or minimize what you are feeling. On the contrary, make sure you are in touch with your emotions.
What I am saying is that as a follower of Christ you have the power of Christ living inside of you.  What this means is that you can win your battles over your emotions through the power of the Holy Spirit within you.
You don't have to let your emotions control you
Nothing can separate you from God's love (Romans 8:35-38).  With Jesus by your side you can fight this battle. You are more than a conqueror and victory is yours because of Jesus (Romans 8:37).
Remind yourself of God's love for you.  Say things like, "I know You love me Lord. I know You are with me, and I know You will carry me through this day."  
One of the most powerful prayers we can pray are these three words, "Lord help me."  On the days you are feeling emotionally challenged simply say this sweet, short and powerful prayer as often as you may need to.
2. Thank God and praise Him for the many gifts He has given you
No matter how tough life can become, there is always something we can praise the Lord for. You can thank Him for the very breath you are taking right now.
When we praise God in the midst of our feeling negative, something happens to our mood. Praising and worshipping God in the midst of feeling down will propel you into a better emotional place. Be patient and don't give up.
Regardless of how you are feeling, it is important to keep thanking the Lord (1 Thessalonians 5:18).
3. Read and Speak God's Word
There is strength and power in the Word of God.
When we know God's Word we are refreshed and restored because the Word of God is alive and powerful (Hebrews 4:12). Make sure to spend enough time daily reading God's Word.
It is especially important to read your Bible when you don't feel like reading it. Push yourself and read.  It helps to read and speak God's Word out loud because you will hear your own voice and it will encourage you. This is one reason why Scripture memorization is so helpful.
Back in 2002 when my husband and I were separated I went through a very painful time. On my darkest days I had to force myself to pick up my Bible and read it. I'd start with Psalm 1 and read through all the Psalms, out loud. Usually by the time I was at Psalm 34, tears of joy were running down my cheeks because I was feeling Gods love and comfort.

4. Musical worship
Musical worship is very healing and very comforting.
Singing or listening to worship music will fill your heart with peace and joy as you praise God (Colossians 3:16, Psalm 150:1-6).
5. Punch the devil in the face
To be honest with you, I don't like to give the devil a lot of attention. However, I honestly feel that a lot of heavy heartedness comes from a spiritual attack from the enemy.
The truth is, however, that we are in a spiritual battle every day and most Christians don't give this enough attention. In Ephesians 6:12 it says, "For we are not fighting against flesh-and-blood enemies, but against evil rulers and authorities of the unseen world, against mighty powers in this dark world, and against evil spirits in the heavenly places."  And in James 4:7, "…resist the devil and he will flee from you."
Many of our emotional battles are spiritual ones. Having a heavy heart, although valid, may need to be fought spiritually. We can train our minds and learn kingdom ways of fighting this war.
Learning to live God's way is a process. The mind is a battlefield and we must control our thoughts to become obedient to God's way of living (2 Corinthians 10:5).
God is faithful to our cries for help. He wants us to live life in all it's fullness. (John 10:10). Give Him your heavy heart and let Him carry it for you (Isaiah 46:4). (Tweet this).
Feel free to leave a comment below and share your insights on how you have overcome heavy hearted emotions.
"And we are confident that He hears us whenever we ask for anything that pleases Him. And since we know He hears us when we make our requests, we also know that He will give us what we ask for." ~ 1 John 5:14-15
Photo Credit: Google Images